In April 2023, Grand Pacific Resorts was proud to send 20 contenders to the esteemed American Resort Development Association (ARDA) Conference held in Orlando, Florida. This annual event serves as a platform for recognizing the outstanding achievements and excellence exhibited by professionals and programs in the timeshare industry. It was an extraordinary occasion for Grand Pacific Resorts and our Associates, four of which took home awards for their service and contributions. You can read more about all of our finalists and this incredible event by clicking the link here.
In order to celebrate the exceptional accomplishments of our talented finalists, we are thrilled to present a series of blog posts featuring them throughout the year. This month, we shine the spotlight on two of our remarkable Associates: Chris Higa and Stacey Stanford.
Keep reading below to see our two Associate Nominations as presented for their ARDA finalist positions!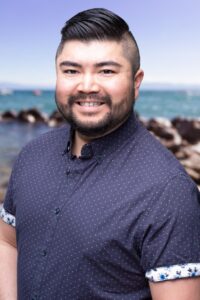 Chris Higa
Senior Digital Content Creator 
Grand Pacific Resorts
As our Senior Digital Content Curator, Chris is responsible for concepting, creating, and curating all digital assets used in both internal and owner-facing capacities across Grand Pacific Resorts. When the Team was operating at a reduced capacity for over a year, Chris single-handedly took on managing each of the social media accounts of our 20-plus resorts, in addition to his ongoing digital creation responsibilities. He is often on the road with all of his camera gear as he is called from one photo or video shoot to the next, demonstrating his creative versatility and agility to work from anywhere while juggling multiple projects. Chris proactively looks for ways to expedite work flows by staying on top of new technologies, resulting in streamlined processes. Due to his unwavering dedication to his role, meticulous attention to detail, and can-do attitude, Chris is always willing to roll up his sleeves to get any job done. Even when inundated with projects, he is never too busy to stop whatever he is doing to assist his Associates, and he has become a go-to resource for his Team. Chris actively manages all of our digital assets by utilizing a digital asset manager tool, ensuring that thousands of digital assets are tagged, categorized, searchable, and copyright-compliant. He expanded our digital marketing collateral and efforts that included all-new digital brochures with 360-degree virtual tours, photo albums, and sizzle reels. His ability to take pieces of information then convert them into high quality scripted, instructional, promotional or informative videos that meet our stakeholders' needs, has been invaluable. He also makes executive creative decisions while still remaining within our established brand guidelines, resulting in the best possible product.
Stacey Stanford
Technical Assurance and Training Manager
Grand Pacific Resorts
Stacey has been with Grand Pacific Resorts for 19 years. Throughout this time, she has worked with several different departments, including the Front Desk and Call Centers for both Collections and Reservations. Stacey's hands-on knowledge of so many various job functions lends her a unique depth of understanding as she creates training modules on various software platforms used frequently throughout our resort operations. Due to her operational experience, Stacey knows how to navigate the complex layers of our company, saving time and money by involving the right stakeholders at the appropriate time. She is the face of Grand Pacific Resorts when we bring on a new resort, and is often physically onsite at the resort for the onboarding process. She teaches new Associates our Property Management System (PMS), texting platforms, IT request systems, and our payroll system, dedicating significant time helping them learn the important software that keeps our resorts running smoothly. She jumps right in to troubleshoot any part of the PMS that may not be functioning correctly, and always manages to find ways to fix it quickly. She also trains Associates on Knowcross, a Housekeeping and Maintenance service request tool. Stacey has closed over 150 tickets in our ticketing system that include new set-ups, troubleshooting and fixing SPI, Knowcross, or Kipsu issues. Stacey is a competent teacher on any new features of the system as well. If a resort is still using a manual process, she is frequently able to automate it. Stacey enjoys great relationships with our General Managers and front line teams. She always works with a smile on her face and can always be counted on to get the work done quickly and competently.