Leadership
Meet the leaders of Grand Pacific Resorts
Leadership
David S. Brown
Co-President & Co-Owner
David S. Brown is Co-President of Grand Pacific Resorts and its affiliated companies. Mr. Brown oversees resort operations, and co-manages development and sales and marketing functions with his business partner Timothy Stripe. Together, Mr. Brown and Mr. Stripe have developed and manage vacation ownership properties and resort hotels comprising over 1,900 units, serving over 80,000 timeshare owners. Prior to co-founding Grand Pacific Resorts in 1989, Mr. Brown was COO of Shell/Winners Circle Resorts International, Inc. in California and was Vice President and General Counsel of Vistana Resort in Florida.
Mr. Brown has served on the Board of Directors of ARDA, the Washington, D.C.-based trade association representing the timeshare industry, assisting in legislation and regulation of the timeshare industry at the state and federal levels. He has been an Adjunct Professor at a Southern California-based university since 1998, teaching a Timeshare and Resort Hotel Development class in the Master's Real Estate Development Program. He is also a member of the Young Presidents Organization (YPO).
Timothy J. Stripe
Co-President & Co-Owner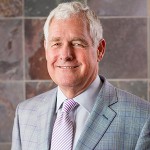 Timothy Stripe is Co-President and Co-Owner of Grand Pacific Resorts. Mr. Stripe is responsible for business development, acquisitions, and banking relationships. He also co-manages sales and marketing activities.
Before co-founding Grand Pacific Resorts, Mr. Stripe was Chief Financial Officer for Shell/Winners Circle Resorts International, Inc. During his time with Winner Circle Resorts, Mr. Stripe was involved in the development process of the related projects. In 1989, he became a principal and took on the additional responsibility of overseeing the marketing department of the company in addition to the financing and development of the projects.
Prior to entering the vacation ownership industry, Stripe served as a corporate controller for the Western Financial Group, a holding company for savings and loan interests, real estate development, and manufacturing concerns.
Mr. Stripe is a certified public accountant and began his professional career in public accounting in 1976. Mr. Stripe serves on the Board of Directors at a city Chamber of Commerce and at a California State University located in Southern California.
Nigel Lobo
Chief Operating Officer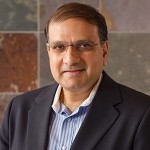 As Chief Operating Officer of Grand Pacific Resorts, Nigel Lobo has the overall leadership of resort management, Grand Pacific Vacation Services and business development. Mr. Lobo is responsible for the strategic growth and profitability of the management company as well as the brand's service standards and excellence across all resorts.
Mr. Lobo is active in the American Resort Development Association (ARDA) and several other timeshare industry organizations. In 2014, he graduated from the inaugural ARDA LEAPs (Leadership-Education-Action-Progression-Service) Program, and has earned the ARDA designation of Registered Resort Professional (RRP). Mr. Lobo has served as the Chairman of ARDA's AIF Education Committee, Vice Chair of the HOA Outreach Committee, and as an advisory member on the ARDA Suppliers Committee.
A hospitality veteran, Mr. Lobo has held numerous senior executive positions in the hotel and resort management field. His prior responsibilities have included operational oversight, managing owned assets, and third party management as well as franchise operations for various hotel brands including the Oberoi Hotel Group, Intercontinental, Marriott, and Hilton Brands in Asia, Europe, and the United States.
Timothy W. Shinkle, CPA
Chief Financial Officer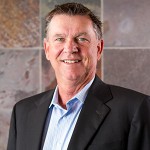 Timothy W. Shinkle, a financial service veteran with over 30 years of accounting experience, heads the finance, accounting, and information technology department of Grand Pacific Resorts. Mr. Shinkle also leads a team of financial professionals who handle all of Grand Pacific Resort's financial needs, including financial reporting, assessment billings and collections, and complete accounting services.
Before joining Grand Pacific Resorts, Mr. Shinkle was an Audit and Accounting Manager for Pannell Kerr Forster, an international CPA and consulting company. In his six years with PKF, he worked closely with clients, specializing in the hotel, vacation ownership, and vacation club industry.