Toiletries Recycled for Life-Saving Hygiene Kits
CARLSBAD,CA– September 6, 2016 – Grand Pacific Resorts, a timeshare management company based in Carlsbad, California, launched its partnership with Clean the World on July 1, 2016.
Clean the World estimates that within the first year Grand Pacific Resorts will recycle 21,610 pounds of toiletries, which will be redistributed around the world to prevent sanitation-related illnesses.
"Clean the World perfectly complements the two sides of our social responsibility program," says David Brown, Co-President at Grand Pacific Resorts. "It protects the environment by keeping waste out of landfills. It's also 'enriching lives' by giving families access to hygiene products—a simple but profoundly important need."
More than 5,000 children under the age of five die every day from hygiene-related diseases. Clean the World estimates that proper hand washing with soap can prevent up to 65 percent of the occurrences of these diseases, more than 3,000 lives per day.
Housekeepers at all resorts managed by Grand Pacific Resorts now collect partially-used toiletries, which are sent to Clean the World for sorting, sanitizing, and repackaging. Soap is ground up and then melted down to make new bars, which are distributed with help from partner non-profits to families in more than 100 countries.
"Sustainability is a major focus for hotels," said Shawn Seipler, CEO and co-founder of Clean the World. "Grand Pacific Resorts doubles down in its approach to corporate social responsibility by incorporating the humanitarian element along with the environmental focus. That strategy is directly aligned with our mission."
About Grand Pacific Resorts
Grand Pacific Resorts is committed to "Enriching Lives by Creating Experiences Worth Sharing" for more than 70,000 owner families and tens of thousands loyal guests each year. Based in Carlsbad, California, our resort management team tailors its services to preserve the distinctive experience offered by each destination. For more information, visit www.grandpacificresorts.com.
About Clean the World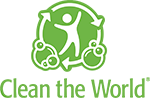 Clean the World is a social enterprise dedicated to the mission of saving millions of lives around the world while simultaneously diverting hotel waste from landfills. The organization collects discarded soap and other hygiene products from more than 4,000 hotel and resort partners and operates recycling centers in North America, Asia, and Europe. Clean the World provides hygiene education and microlending to make hand washing and local soap purchases a lifelong habit in developing regions. Through its hygiene kit program, Clean the World provides personal care items to relief organizations throughout North America. Since 2009, more than 34 million bars of Clean the World soap have been distributed in 100 countries. More information: http://www.cleantheworld.org