The long-standing commitment throughout Grand Pacific Resorts in giving back to the local communities where we operate, as well as making environmental sustainability a priority, culminated in being honored with the 'Best Corporate Social Responsibility' Award for the third year in a row from the Perspective Magazine Awards at the annual GNEX Industry conference in Baha Mar, Bahamas on February 27, 2019.
We're honored to receive this industry recognition and will continue to expand our many corporate social responsibility programs guided by the philosophy, "What Matters to You, Matters to Us."
Engaging Our Owners & Guests
Through our program beCAUSE Destination Matters, guests and owners can nominate their favorite non-profit for a charitable donation from us. Once per quarter, we announce three nominated charities and share the stories about them bringing awareness to the causes by encouraging votes for their favorite. The winner of the vote receives $2,500 donation and the other charities go into our "Vacation for Good" program where 10% of rental proceeds the following quarter are donated.
Passion for Education
Every year, we host the Annual Christel House Golf Tournament, and in 2018 we were able to raise over $50,000. Proceeds for the tournament benefit Christel House Schools in underprivileged neighborhoods domestically and abroad, namely Indianapolis, Mexico, South Africa, and India.
This past summer, we hosted two interns from Christel House. Both young women came from Christel House Indianapolis, and had been in the program from first to twelfth grade. They were able to work on projects at the home office and resorts including the Christel House fundraising events. Hosting the interns was both unique and wonderful, and allowed us to give back more than money – we gave opportunity.
Keeping the Earth a Beautiful Place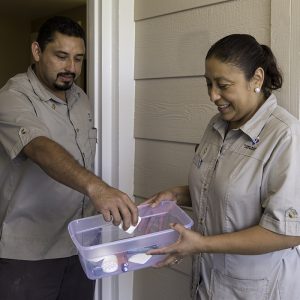 In 2016 we partnered with Clean the World, a social enterprise dedicated to the mission of saving millions of lives around the world while simultaneously diverting hotel waste from landfills. To date, we collected nearly 11,500 pounds of waste, and Clean the World distributed nearly 34,000 bars of soap to poverty stricken countries and emergency distribution centers around the country, recycled almost 3,900 pounds of plastic, and donated 10,300 plastic bottles to hygiene kits.
Giving Families Time Together
Every year we partner with Send Me On Vacation, an organization for women who have undergone breast cancer. In the past, our donations were 7-night vacations for two courageous women at one of our resorts. This year, we took our support to the next level.
Revive and Thrive, in support of Send Me on Vacation, came to fruition late 2017 allowing owners at our family of resorts to donate their use week to a breast cancer survivor. The donations have grown from 6 weeks in 2017 to 10 weeks in 2018. The donations often include messages of hope and love, and some stories of our owners' personal battles with cancer. We are incredibly grateful that our owners are aligned with our core value of giving back.
As the top sponsor of Champions for Charity, an event benefiting Send Me On Vacation, we had already donated for the opportunity to present four vacations to breast cancer survivors. Upon learning the non-profit was just short of their $50,000 goal, the team came together and added $900 to our donation so that Send Me On Vacation could exceed their goal.
Grow the Tradition of Giving
Our annual Giving Tuesday campaign expanded from one non-profit receiving a donation in 2017 to 7 non-profits receiving donations in 2018. We ran three separate campaigns to raise money, all in the spirit of Giving Tuesday. Altogether, we were able to donate a collective $3,769 to charities in areas local to our family of resorts.
We're Always Inspired to Do More
We are driven by our core purpose, enriching lives by creating experiences worth sharing, and that purpose is present through all layers of our organization. From associates that donate their time to our owners that donate their vacations, we are continually inspired to do more for our people, for our communities, and for the world.
We are honored to receive the award for Best Corporate Social Responsibility for the third consecutive year and will continue to be inspired by our owners, guests, associates, and leadership team whose generosity benefits those in need.